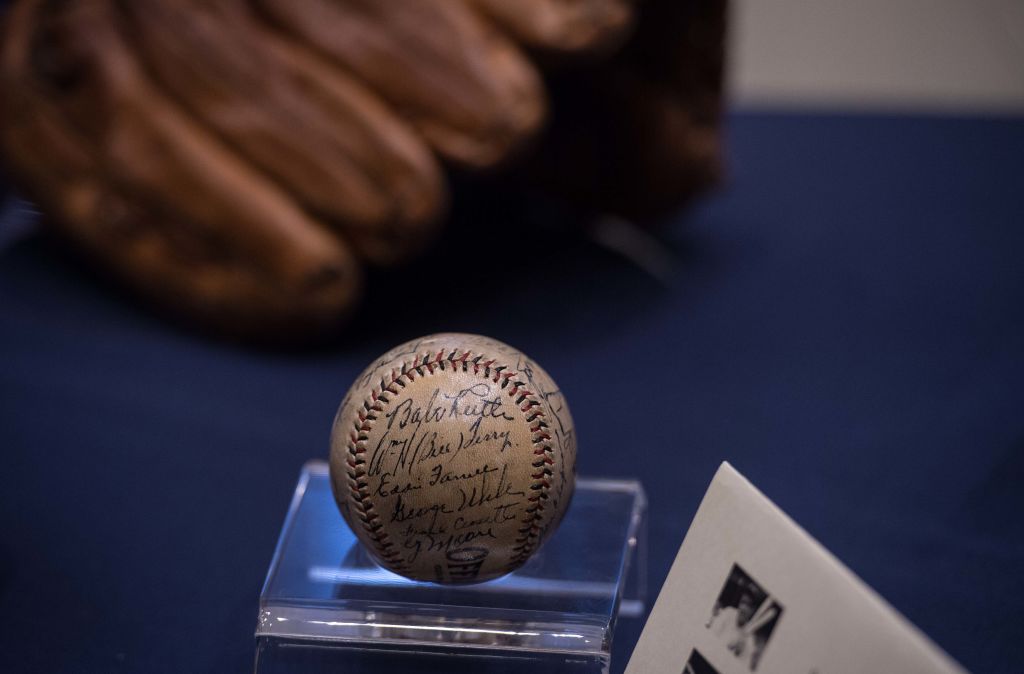 It's not every day that you find signed sports memorabilia on the market, but it's even more rare that the item is authentic. When you can find a real signature from an athlete that revolutionized their game, it's a recipe for success. That's exactly what the sports world saw early in 2020 when a signed baseball from none other than Babe Ruth broke records at auction. If you're a fan of autographed sports memorabilia, you don't want to miss this story!
About the Ball
The ball in question was a Babe Ruth-signed baseball from August 15, 1948, the night before Ruth passed away. Ruth began his battle with cancer in 1946, and by August 1948, his health was declining rapidly. Many who saw him during the final weeks of his life were stunned at how gaunt and haggard he was, especially compared to his large stature in his prime. However, he proved to be thinking of others until the very end.
The story goes that, at some point before August 15, Ruth was dining in a restaurant where a waiter asked for an autographed ball for his daughter's birthday. While Ruth declined the initial request, he later returned to the restaurant and signed the ball to Loraine, the waiter's daughter. The next evening around 8 p.m., Ruth passed away in his sleep.
It's this very ball that went up for auction at Grey Flannel Auctions and sold for a record-breaking $183,500. The auction occurred on January 22, 2020, and Ruth's ball began bidding at just $5,000. The ball now stands as garnering the highest price ever paid for a single-signature personalized baseball, according to PSA. The autograph on the ball was rated a Mint 10, which is the highest possible ranking.
Grey Flannel Auctions Director of Operations Michael Russek believed that this incredible piece would be a record-setter before it ever went up for sale. He stated, "It was definitely the finest Ruth autograph we had ever seen on any item of sports memorabilia, not just baseballs.… I would be very surprised if a better example ever were to appear in the marketplace."
Additional Items
The auction brought in more than $1.41 million in total with several other high-price items on display. For instance, a 1902 Baltimore Orioles flannel sold for $48,871, marking the oldest professional sports jersey that's ever been handled by this auction house. Grey Flannel Auctions also sold a pair of "Dream Team" sneakers featuring Michael Jordan's autograph; Jordan also wore the sneakers at the 1992 Olympics. These sneakers brought in $52,417.
This is not the first time that a piece of Babe Ruth's sports memorabilia has been in the record books. In June 2019, a Babe Ruth jersey that had been worn in a game sold at auction for $5.64 million, marked as the most expensive piece of sports memorabilia ever sold. The previous record holder was Babe Ruth himself, for a $4.4 million jersey that sold in 2012. The 2019 jersey has been identified as a late 1920s style, which was the height of Ruth's hitting career.
Sell Your Memorabilia Today
It's clear that autographed sports memorabilia can bring in a pretty penny. If you think you've got something valuable, you'll need to get it appraised before you consider putting it up for auction or selling to a private buyer. Collectibles Investment Group is proud to offer autographed sports memorabilia appraisal for all of your collectibles. Our experts have been in the industry for years and can tell you if your item is authentic, and more importantly, how much it's worth! Contact Collectibles Investment Group today to schedule your fre