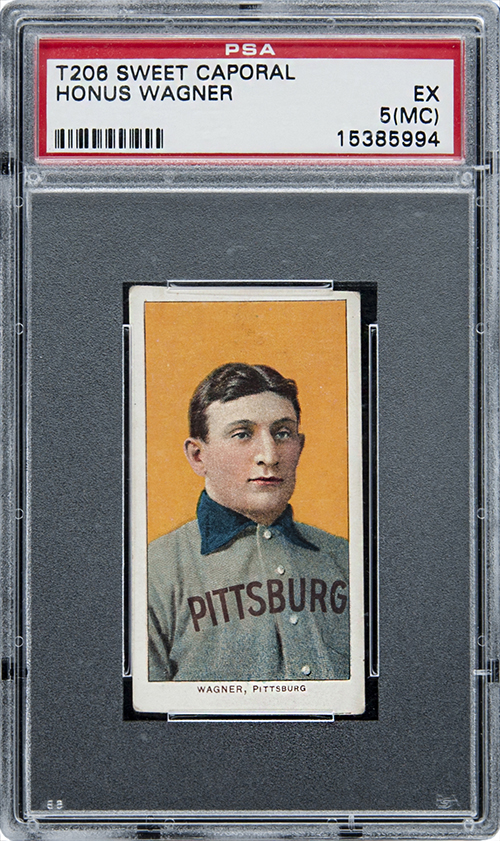 If you have been collecting baseball cards for a while, you've likely heard of the famous T206 Honus Wagner card. If you're new to the hobby is collecting, you need to hear the story! This card is widely proclaimed as one of the rarest and most value baseball cards of all time, so if you happen to have this vintage sports card in your collection, get ready for a big boost in your bank account!
Who was Honus Wagner?
Honus Wagner was a shortstop in the MLB from 1897 to 1917. The majority of his career was spent playing for the Pittsburgh Pirates. He had won eight batting titles by 1911, a National League record that is still unbroken more than 100 years later. Thanks to his German heritage and his incredible speed, Wagner was often referred to as the Flying Dutchman.
Wagner was inducted into the Baseball Hall of Fame in 1936 as one of the first five members, and he received the second-highest vote total, second only to Ty Cobb and tied with Babe Ruth. The majority of baseball historians consider Wagner to be the greater shortstop of all time and one of the best players ever.
The T206 Honus Wagner Card
The famous T206 Honus Wagner card was designed and issued by American Tobacco Company. The card ran as part of the T206 series from 1909-1911. However, Wagner refused to let ATC continue producing his card, either because he wanted more compensation or because he didn't want children buying cigarettes just to get their hands on his card. Because Wagner wouldn't cooperate, the ATC ended production of the card after just 50 of around 200 cards were ever distributed publicly. To put that in perspective, most T206 cards had tens or hundreds of thousands produced.
The card was first listed add a value of $50 in 1933 in The American Card Catalog from Jefferson Burdick. While $50 doesn't sound like much, it was equivalent to almost $1,000 in 2019 and was the world's most expensive baseball card at the time. Since then, it is not uncommon for cards to sell for six or even seven figures.
Biggest Sales of the T206 Honus Wagner Card
The Gretzky T206 Honus Wagner is the most famous iteration of the card. It was first sold to a collector named Bill Mastro and eventually made its way into the hands of ice hockey stars Bruce McNall and Wayne Gretzky for $451,000. This particular card was so valuable because it had an odd shape and texture, even leading to some speculation that it was a fraud. In 1995, four years after he originally got the card, Wayne Gretzky sold the card to Walmart and Treat Entertainment for $500,000. It was then used as the top prize in a promotional contest.
In 1996, the card was auctioned at a British auction house named Christie's for $640,000. It later made its way to collector Brian Siegel for $1.27 million, and seven years after he received it, he privately sold it for $2.35 million. Less than six months after, the card was sold to Ken Kendrick, Arizona Diamondbacks owner, for $2.8 million. Another card called the Jumbo Wagner sold at auction in 2016 for a record-setting $3.12 million.
In the world of vintage sports cards, you simply can't have a fulfilling conversation without mentioning the famous T206 Honus Wagner card. If you have one in your collection, you surely have a gem! No matter how big or small your collection is, if you're looking to sell baseball cards, Collectibles Investment Group is the best place to get a free appraisal. Contact us today to learn more!