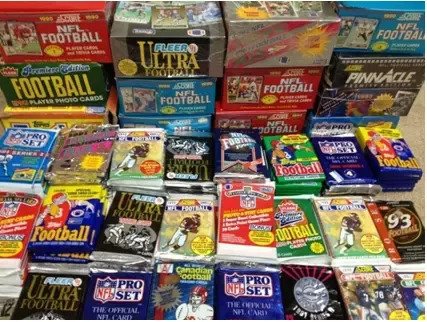 If you have a large collection of old football cards that you are ready to part with, you may be surprised by how much money you can make. Old sports cards are becoming increasingly popular online, while it's becoming easier and easier to sell your cards. If you are interested in finding out how you can make some extra cash by parting with some of your old cards, simply follow these steps.
Examine Your Collection
The first step in selling old cards is to look through your collection and think about how you plan on selling the cards. If you have a complete collection, you may wish to sell the collection as a set. Or, you may be in possession of a few select collectible cards that you want to sell individually. Take stock of your card collection and decide what will be going up for sale.
If your cards aren't classified by era, you will need to determine what type of football cards you have.
Learn How to Price Your Cards
Learning how to value your old football cards will be the next skill you'll need. Typically, the most valuable cards are of the most popular players.
When determining the value of a football card, consider the following:
Condition – The condition will play a huge role in determining the card's value. For an accurate, reliable assessment, you will need to send the cards to a professional grading service. Every reputable grading service uses the Beckett Condition Guide. The guide outlines 10 different conditions, 1 being poor and 10 being pristine, a rating reserved only for the best vintage cards. It's important that you determine the correct condition in order to value the card correctly. 
Year – While newer cards tend to look better, older cards, especially those in good condition, are much scarcer and therefore much more valuable.
Players – The featured player also affects the card's value. RC cards, or rookie cards, tend to be more valuable as they are rarer. If you are lucky enough to be in possession of an RC card for an All-Star or a Hall of Fame player, you have one of the most valuable football cards on the market.
Special features – Finally, note whether the card has any special features such as a signature or a refractor shine, as these features may increase the card's value.
Compare Your Collection With Online Listings
Once you know exactly what cards you have and their condition, player, year, and features, begin looking for similar cards online. Try to determine a round market value for your cards so you know how to price them. Try browsing card listings on Craigslist, eBay, and Amazon as a starting point. After pricing the cards, you'll either need to use an online card trader or upload listings of each card yourself.
Sell Your Cards Online at Collectibles Investment
At Collectibles Investment, we can take all of the hassle out of selling collectible cards. Whether you're selling a few old football cards, or you have multiple collections of retro baseball cards, football cards, and more, we are here to help. Our team of dedicated professionals have decades of experience in the industry of card selling, so you can rest assured that you'll get the amount you deserve for your collection. Plus, by using our easy services, you won't have to spend time uploading pictures of your cards onto a variety of listings websites. Instead, you'll get a competitive amount for your whole collection quickly.
If you're interested in learning more about Collectibles Investment, send us an email or try our complimentary collection appraisal tool today.