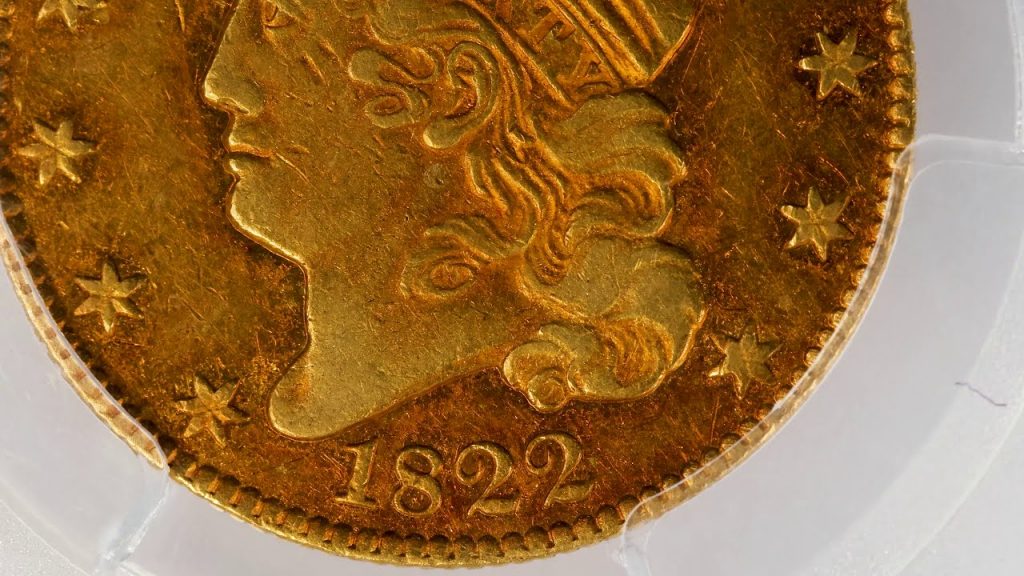 It's no secret that valuable gold coins are some of the most lucrative collectibles on the market. These pieces that were once worth only a few cents or maybe a couple dollars can now go for hundreds of thousands or even millions of dollars. While we do see coins reach the seven-figure price tag relatively often, it's not too common to see one sell for $8.4 million! Well, that's exactly what happened when a rare piece from 1822 went up for auction recently.
About the Sale
In late March, a rare 1822 half eagle $5 piece sold at auction in Las Vegas, Nevada. This piece in particular was the sole known version of this coin in private hands, and just three are known to exist at all. The auction price of $8.4 million was the highest that any U.S. gold coin struck by the U.S. Mint has ever realized.
This coin was graded as AU50, or "almost uncirculated," by the Professional Coin Grading Service. The buyer has chosen to remain anonymous, but we do know that the coin originally came from the D. Brent Pogue Collection. A collector first got their hands on the coin in 1899 and sold it in 1945; the coin eventually made its way to Pogue in 1982.
The auction was held through Stack's Bowers Galleries. While this is the only 1822 half eagle $5 in private hands, the two other known pieces are held in a permanent collection by the National Numismatic Collection at the Smithsonian Institution.
While this piece is by far one of the most valuable coins that's ever been up at auction, it doesn't take the top spot. In fact, it's third; the top honor goes to the 1794 Flowing Hair Silver Dollar that sold for more than $10 million at a 2013 auction, followed by the 1787 Brasher Doubloon that sold for $9.36 million in January 2021.
About the Coin
This particular piece is one of the most valuable and one of the rarest pieces of U.S. currency, so it's no wonder it's made waves on the auction block. Today, we have four mints, located in Philadelphia, Denver, San Francisco, and West Point. However, in the early days of the country, the sole mint was located in Philadelphia.
When it comes to coin collecting, collectors often tend to seek out one coin and get a version produced at each individual mint to complete that small collection. However, for early coins that were produced before multiple mints opened, it only takes one coin to complete the "collection." So, the 1822 half eagle $5 piece is essentially a collection in and of itself.
Additionally, this particular coin did not have any mint-made restrikes that would satisfy the increasing demand from collectors. Some other valuable coins, like the 1827 Capped Bust Quarter and the 1804 Silver Dollar, did have reprints that allowed collectors a slightly better chance of getting their hands on a piece.
Although you might not have a multi-million-dollar coin in your collection, it's still worth it to get your items appraised. You might be surprised at the value! Collectibles Investment Group is happy to appraise your gold coins and paper money, comic books, sports cards, and more. Contact us today to get started!