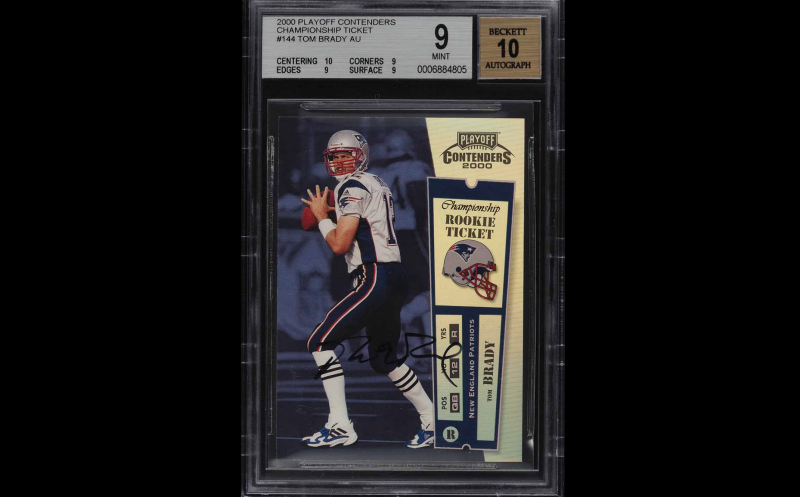 There's no question that Tom Brady is a record-setter, already going down in history as one of football's best players even before he's retired. But now, Brady is continuing to set records even off of the football field. His rookie card recently went up for sale and brought in some serious cash. Even if you're not a fan of the player, you have to give some respect just for having one of the most valuable sports cards out there!
About the Card
If this story sounds familiar to you, don't worry; you're not having déjà vu. An autographed Brady rookie card sold for $1.32 million in early March 2021. With the excitement of Brady just coming off of another Super Bowl win, the huge sale wasn't that much of a surprise. But Brady has done it again, barely more than a month after this first sale.
On Friday, April 2, Brady's autographed 2000 Playoff Contenders Championship Rookie Ticket #144 card went up for sale during the Lelands 2021 Spring Classic Auction. After 67 bids with an opening bid of $75,000, the card finally sold for $2.25 million, nearly a million dollars more than its twin that sold last month.
What made the biggest difference in the values of these two cards was the grading. Both cards were graded by Beckett. The card that sold in March was graded as an 8, and its autograph was graded as a perfect 10. While this new card also got graded at a perfect 10 for its autograph, the card itself was in great condition as well and earned a grade of 8.5. It just goes to show how these little improvements in a card's condition can make a huge difference in the overall value!
The auction house stated that this card was initially purchased more than 10 years ago and has since been kept in a private collection. It now stands as the most valuable football card ever sold at auction.
About the Player
Tom Brady is truly a man who needs no introduction. He played college football at the University of Michigan before being selected 199th overall in the 2000 NFL Draft. He stayed with the New England Patriots for 19 years (becoming starting quarterback in his second season) and brought them six Super Bowl wins, also earning the title of Super Bowl MVP five times.
He moved to play for the Tampa Bay Buccaneers in the 2020 season and brought them to a Super Bowl win as well. He holds NFL records for the most career touchdown passes and most career postseason passing yards, among others. And although Brady is 43 years old, which is considered pretty old for a football player, he doesn't appear to be stopping anytime soon.
Sell Your Football Cards
While you might not have a super valuable Tom Brady card in your collection, you might be surprised what your sports card collection is worth! There's only one way to find out: get it appraised. Collectibles Investment Group offers quick and accurate appraisals for sports cards, collectible card games, comic books, coins, and more. Contact us today to get started!