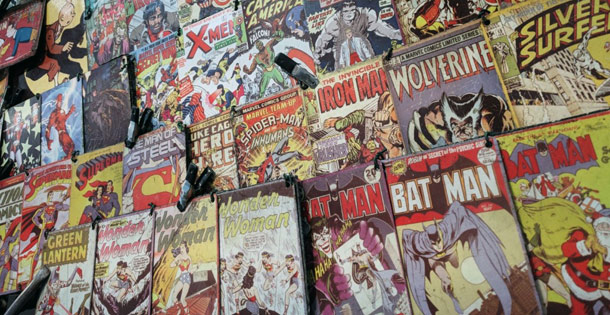 We all know Marvel and DC, but there's so much more to explore for comic book lovers. If you love to buy and sell comic books, there's a whole world out there (pun intended) for you to discover. There are countless comic book publishers from around the globe that aim to spread the love of comics to everyone. We wanted to take some time to spotlight some incredible international comic book publishers. Maybe these picks will inspire you to pick up something new or even learn a new language!
Arcana Studio
The U.S.'s northern neighbors turn to Arcana Studio for their publications. The studio was founded as a comic book publisher by Sean O'Reilly in 2004 and has grown to be the largest publisher of graphic novels and comics in Canada. There are more than 300 titles in their library today, covering every age range and genre. While comic books still make up a bulk of Arcana's revenue, they also do well in the animation world since the 2012 opening of their animation division.
L'Association
The new wave of Franco-Belgian comics during the 1990s brought forth one of France's biggest publishing houses, L'Association. L'Association has become well-renowned both for publishing French authors' works and for publishing French translations of North American works. The seminal Comix 2000 truly put this company on the map, featuring more than 300 creators from 29 countries.
Bubble Comics
Bubble Comics is Russia's largest comic book publisher and was founded in 2011 by Artem Gabrelyanov. Bubble is the only publishing house in the country that produces original non-franchised comic books. The original run included four titles: Friar, Red Furt, Major Grom, andDemonslayer.Other series have included Meteora, Exlibrium, and Time of the Raven.
Cinebook
The UK's Cinebook specializes in comic albums and graphic novels. The company was founded in 2005 by Olivier Cadic and focuses primarily on translating Franco-Belgian comics. Translators for Cinebook are versed in French, British English, and American English to provide a variety of translations. While they focus on softcover album series, they have also released limited hardcover series of some of their most popular collections.
Drawn and Quarterly
When Canadians buy and sell comic books, another popular company is Drawn and Quarterly, founded in 1990 by Chris Oliveros. This Montreal-based company is regarded as one of the most influential comics publishers in North America thanks to its emphasis on high-quality products and intriguing stories. In addition to comics, Drawn and Quarterly has published graphic novels, prose literature, non-fiction, children's books, and more.
Finix Comics
German comic lovers turn to Finix Comics for their reads. This company was founded in 2007 with the aim to continue prematurely cancelled series in the country. Comic books aren't taken as seriously in Germany as they are in countries like the U.S. and France, which led to a group of comic lovers founding Finix. Membership is open to anyone, and membership fees go toward purchasing the rights to discontinued comic series, which members then aim to continue.
Buying and Selling Your Comics
This is just the tip of the iceberg when it comes to international comic book publishers. The hobby spreads far and wide, and you might even find a new favorite storyline when you look a little further! If you've got a big collection of comics and are wondering, "Where can I sell comic books?," start with Collectibles Investment Group. Our experts are familiar with both American and international comics, so no matter what you have in your collection, we can provide a quick, accurate, and free appraisal! Contact us today to get started.