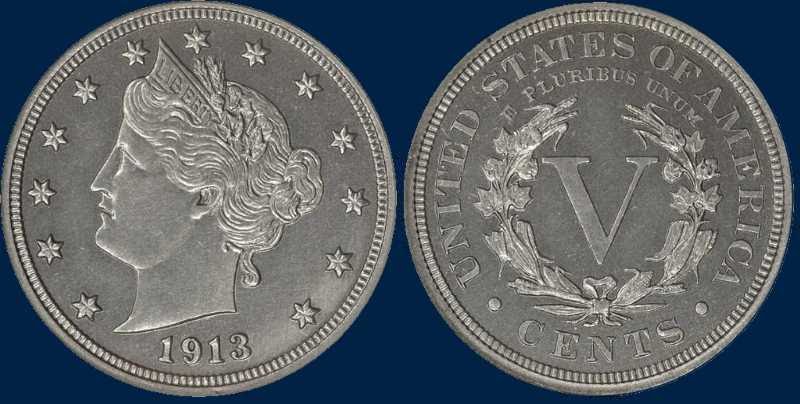 If you're interested in coin collecting, you're likely aware of the 1913 Liberty Head nickel. It's one of those coins that has a simply fascinating history and is one of the most coveted coins in the hobby. Only five examples of this coin are known to exist, making it one of the rarest coins in history. Though you're not likely to find one of these pieces if you're selling silver coins, it's still interesting to learn the background behind one of America's most sought-after coins.
History
From 1883 to 1912, the five-cent piece for the U.S. featured a Liberty Head design. Starting in February 1913, the Indian Head nickel replaced the first design. The United States Mint did not authorize any production of the Liberty Head nickel past 1912, and official records state that no Liberty Head coin was struck in that year. So then, how do we know of five copies of the 1913 Liberty Head nickel?
Nothing of note came about for several years, but in 1920, there was a shocking development among numismatics (studiers of coins and currency). A man named Samuel Brown had attended the American Numismatic Association's 1920 conference and displayed the coins. He'd previously run an advertisement in The Numismatist magazine in 1919 asking for information on the coins.
Controversy
There have been lots of theories on how Samuel Brown even came to have these coins, but the most popular theory is that he struck them himself. Brown was an employee of the U.S. Mint in 1913, so he would have had the means to strike the coins without much hassle. This wasn't an uncommon practice at the time, as we've seen with coins like the Class II and Class III versions of the 1804 silver dollar.
Those who accept an alternate theory commonly believe that the coins were actually legitimately produced. The Mint's Medal Department may have had the coins commissioned for legal purposes, or the coins may have been struck as test pieces in 1912 to ensure the quality of the next year's coinage dies.
Current Whereabouts
Brown sold all of his 1913 Liberty Head nickels in January 1924. After finding several new owners as a complete set, the coins were eventually separated in 1936. The finest coin in the collection is referred to as the Eliasberg specimen, as it was once owned by famous collector Louis Eliasberg. It has an official grade of 66 and was purchased in 2007 by a California collector for $5 million.
The Olsen specimen, though not as well preserved as the Eliasberg, is the most famous, as it was featured on an episode of Hawaii Five-O. Its most recent sale was in 2010 for over $3.7 million to an unnamed collector.
The Walton specimen was actually lost for more than 40 years. George Walton purchased the coin in 1945 but died in 1962. Walton was on his way to a coin show when he died in a car crash, but when the coin was found in the wreckage, officials believed it a fake. Eventually, its authenticity was proven, and it sits today in the ANA museum.
The Norweb and McDermott specimens are currently in museums. The Norweb specimen has been on display in the Smithsonian Museum since 1978, when Ambassador Henry Norweb and his wife donated it in honor of their 60th wedding anniversary. The McDermott specimen has been exhibited in the Money Museum run by the ANA since 1989. This version is particularly special as it's the only one with circulation marks on it.
When you're selling silver coins, you probably won't run across a 1913 Liberty Head nickel, but it's a fascinating piece to learn more about or visit a museum to look at. For all of your other silver coin needs, Collectibles Investment Group is proud to offer free and accurate appraisals. You don't even need to leave your home! Contact us today to learn more.