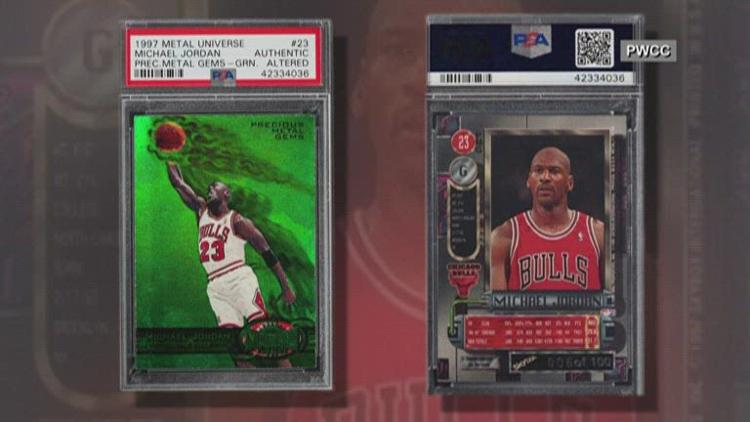 When it comes to legendary basketball stars, one of the first names that likely pops to your head is Michael Jordan. This incredible man has already gone down as one of the best basketball players of all time, and with the new Chicago Bulls documentary The Last Dance creating buzz, the talk about Michael Jordan is at an all-time high. Jordan cards have long been some of the most popular and sought-after basketball cards, so if you have one in your collection, you could stand to make a few bucks. If you're considering selling your basketball card collection, see if you have any of these pieces to offer up.
1986-87 Fleer Jordan Rookie Card
This card is arguably the most popular basketball card ever made, and even 30 years after its initial release, prices continue to climb. This card isn't necessarily rare, but not nearly enough of them exist to satisfy demand of basketball fans. That being said, it is relatively easy to find one of these pieces. PSA is said to have examined more than 17,000 of them, and that's not even including cards graded by Beckett or SGC. The price for these cards is greater depending on the condition of the card, but it's not uncommon to fetch at least $5,000 for one. Cards graded at a 10 have sold for as high as $96,000!
1984-95 Star Jordan Card
While the 1986-87 Fleer card is regarded as many to be his rookie card, Jordan actually did have another card before this. After the Topps company stop making basketball cards for a while, Star became the NBA's official supplier. They are responsible for the 1984-85 #101 card, which is the first licensed card showing Jordan as an NBA player. This card is a bit rarer than the 1986-87 card, so if you are in the market to buy this basketball card, be sure to look out for fakes. Prices for sealed sets containing this Jordan card have sold for around $6,000 on average.
Upper Deck Autographed Cards
Upper Deck has been offering autographed cards from Michael Jordan since 1992, and they continue to be some of the most valuable basketball cards in the industry. 1992 was already a good year for Upper Deck, but when they signed with Jordan, it skyrocketed them into a whole new position. Jordan's signature has been prized by fans for decades, and he recently signed a new long-term renewal with the company. Even though he's been out of the NBA since 1993 and Upper Deck has lost its NBA Trading Card license, these cards continue to be some of the most sought-after baseball cards on the market.
1995 SP Top Prospects Autographs Michael Jordan #14
After Jordan left the NBA, he got into baseball for a while and made a name for himself in a second sport. The 1995 SP Top Prospects card is one of the most valuable Jordan baseball cards from his time with the Chicago White Sox. While any card autographed by Michael Jordan is likely to bring in some money, this card was the first autographed variety to make its way into packs. This is also one of the rarest Michael Jordan cards on the market, as it's believed that no more than 25 copies exist.
Michael Jordan has proven himself to be a powerhouse in the sports world and will continue to influence the way we think about basketball and baseball. If you have any of these cards or any other Michael Jordan card in your collection, you might be looking at a big boost in your bank account! If you're considering selling basketball cards or selling baseball cards, Collectibles Investment Group is happy to provide an accurate, quick, and free appraisal. Contact us today to learn more!