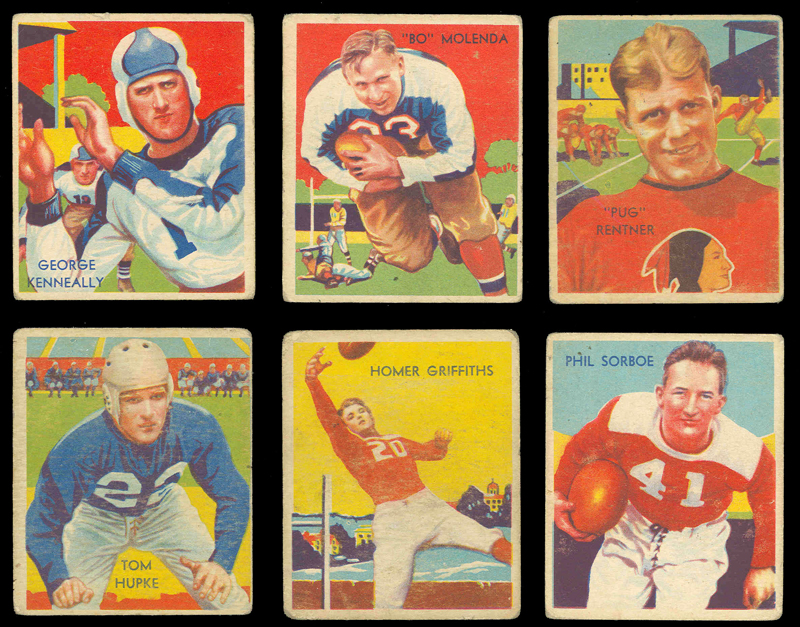 When you think about vintage sports cards, probably the first sport that jumps to your mind is baseball. However, there's a large market for other sports cards as well. Football is one of America's favorite sports and has solidified a place in the hearts of card collectors everywhere. If you're interested in old football cards, you have to learn a little about the 1935 National Chicle football card set.
History
Football cards were first produced in the late 1800s and were included in cigarette packages, quite similarly to the first iterations of baseball cards. The first card set that focused specifically on American football players was released in 1894 by Mayo Cut Plug Tobacco Company and featured players from schools that are in today's Ivy League.
Typically throughout the early 1900s, sports card sets were mixed with multiple sports, and football players featured were usually from colleges. However, the National Chicle Company changed the precedent in 1935 when it released its own football set. This game-changing set of 36 cards was the first bunch to feature players from the National Football League and showed off six players in the Hall of Fame.
1935 Set
While the 1935 National Chicle football card set is now considered one of the quintessential pieces of football history, the company was initially unsatisfied with the outcome. The business had intended the set to contain 240 cards, but they only managed to include 36 cards. While that may have been an issue at the time, it just means that these vintage football cards are even rarer and more valuable today!
There were several notable figures featured in this set, including #9 Knute Rockne. Rockne was a legendary football coach for Notre Dame and is the only subject included in the set who wasn't an NFL player. The 1935 set also included a card for #34 Bronko Nagurski. This card is essentially the football equivalent to the rare T206 Honus Wagner baseball card. Other big names in the set include Shipwreck Kelly, Cliff Battles, Ken Strong, and Ditch Clark, among others.
The designs on the cards feature a Deco-art style with bright colors and vibrant graphics, similar to the 1934-36 Diamond Stars baseball card collection that the same company produced. An interesting tidbit here lies on the backs of the cards. While many sports cards use the reverse to display player information and statistics, this set displays football playing tips on the reverse.
Value
There's no question that the most valuable card in this set remains the #34 Bronko Nagurski. Nagurski dominated as a defensive end and a running back and would take home two NFL championships and would be regarded as one of the sport's greatest players.
This card is very rarely found today, and if it does turn up, it's even more surprising to find one in good condition. The only PSA 9 Mint example of the card sold for $240,000 in 2006, and another copy sold for $350,000 in 2011. While these might not be the monumental totals brought in by some valuable baseball cards, they're still worthy numbers!
Selling Your Cards
If you ever find yourself in possession of a 1935 National Chicle card and you want to sell it, be sure you get a fair price. The best tips here are to work with a reputable dealer and to get your sports card collection appraised ahead of time. The team at Collectibles Investment Group is experienced with all sorts of sports cards, as well as other items like silver and gold coins, non-sports cards, vintage toys and games, and more. Contact us today to set up your free appraisal!