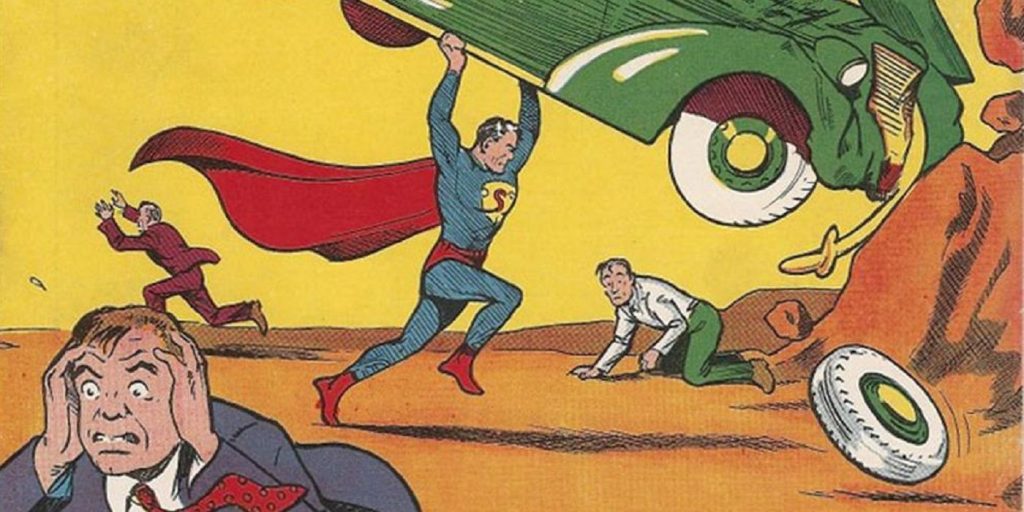 The first appearance of any comic book hero is something to be celebrated, but arguably the most impactful introduction in the comic book industry is that of Superman. Action Comics #1 unveiled everyone's favorite hero and immediately took the world by storm, changing the face of popular culture as we know it. Today, Superman is still one of the biggest comic book characters in media, so if you happen to have this valuable comic in your collection and are looking to sell comic books, you could make a pretty penny!
History of Action Comics
Action Comics was produced by National Allied Publications in 1938. Though the company has adopted several different names throughout the years, it is the direct predecessor of today's DC Comics. Action Comics is a series of comic books and magazines that originally ran from 1938 to 2011, making it the longest-running comic book series with consecutively numbered issues. The second volume ran from 2011 to 2016, but Action Comics then returned to the original numbering in August 2016.
Action Comics #1
Action Comics #1 was launched on April 18, 1938 and essentially kickstarted the Golden Age of Comic Books. The shining star in the first issue was Superman, the brainchild of Jerry Siegel and Joe Shuster. Superman was originally a newspaper strip, but Siegel and Shuster couldn't find a publisher willing to take on the character because Superman was originally a force of evil. When the creators rebranded Superman as a hero, he was accepted by National Allied Publications to run as the cover feature.
While publisher Harry Donenfeld initially was displeased with Superman's cover feature, audiences felt otherwise. The first issue of Action Comics sold at unprecedented rates thanks to the new hero, and he quickly returned to the covers. Other than Superman, Action Comics introduced such characters as Vigilante, Zatara, Tex Thompson, and Lois Lane.
Action Comics Today
Throughout the Silver Age of comics, Superman remained a mainstay in the Action Comics anthology while other characters were cut as the issues were shortened. Superman has since been a consistent presence in the comics throughout the Bronze Age, Modern Age, The New 52, and DC Rebirth. Action Comics stands as the longest running series from DC Comics, followed by Detective Comics.
Value
Action Comics #1 remains one of the rarest and most valuable comics on the market today. While an issue sold in 1938 for a mere $0.10, copies today often sell for upwards of $1.5 million. Estimates claim that there are less than 100 known copies on the market today (out of the initial print run of 200,000). In 2011, actor Nicolas Cage auctioned a copy and collected $2.16 million, and in 2013, a pristine copy of the comic garnered collector Darren Adams an earthshattering $3.2 million on eBay. If you're planning to sell comic books and you have one of these rare editions, get ready for a big boost in your bank account!
Selling Your Comics
Whether you have an incredibly rare find or are just looking to weed through your comics, you might be wondering, "Where can I sell comic books?" Common online options include websites like Amazon, eBay, and Craigslist. You can also turn to in-person game and comic book stores if you prefer. Regardless of your method, it's worth taking the time to get a professional appraisal. Collectibles Investment Group is experienced with DC and Marvel comics, as well as smaller publishers and international editions. We also appraise sports cards, Magic: The Gathering cards, coins and paper money, and more. Contact us today to get started with your free appraisal!