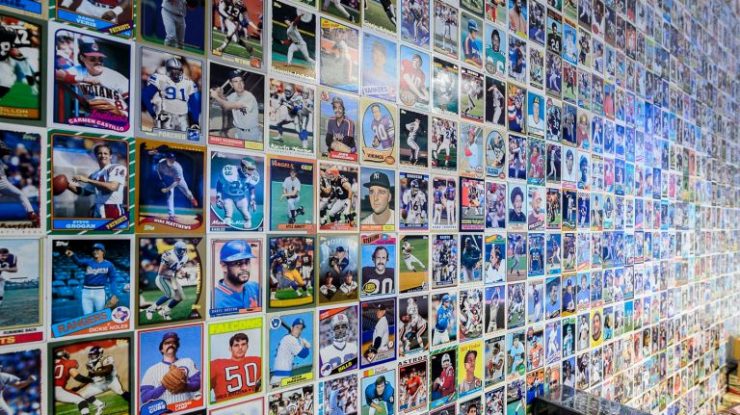 If you're interested in the world of vintage sports cards, you have to get familiar with the company who essentially started it all. Topps has been the premier source for sports cards of all sorts, from basketball and baseball to football and hockey. They also produce chewing gum, candy, and other collectibles. Read on for a dive into the history of this iconic trading card company.
The Early Days
This classic company for antique baseball cards traces its roots back to 1890, when American Leaf Tobacco was founded by Morris Shorin. Sports cards were often included inside packets of cigarettes during this time, but when World War II erupted, many tobacco companies faced difficulties. In 1938, Shorin's sons decided to rebrand the company as Topps and focused on chewing gum instead of cigarettes.
Topps found its first success with chewing gum when it launched Bazooka, which came with a small comic on the wrapper. In 1950, Topps started including cards with the character Hopalong Cassidy. This method was an immediate hit, and Topps followed that success with an even bigger draw: baseball cards. When the company started including baseball cards with the gum and saw how much audiences enjoyed them, sports cards immediately became the emphasis.
Becoming a Powerhouse
Topps found promise with selling sports cards from the start, but the company truly took off in the autumn of 1951 when Sy Berger, known as the "father of the modern baseball card," designed the 1952 baseball card set. This basic design displayed the player's name and photo, team name and logo, and a facsimile autograph on the front, as well as player statistics and biography on the reverse. This design is still used today for the vast majority of sports cards.
While Topps is best known for its baseball cards, but the business also produces cards for other sports. Topps released a set of football cards in 1951, but at the time, a company called Bowman ruled the market. Topps didn't try to produce football cards again until 1955, when it bought out Bowman and essentially took over the industry. The company produced football cards every year from 1955 until 2016, when the NFL awarded Panini an exclusive contract for producing football cards.
Topps started producing hockey cards with its 1954 set and first started selling basketball cards in 1957, though the company's history with basketball was quite rocky. It has also produced cards for the Scottish Professional Football League, Premier League, and WWE.
Other Endeavors
There's no argument that Topps is most widely known for their vintage sports cards, but they've also produced tons of other collectibles over the years. After they moved away from chewing gum, Topps played around with humor items like stickers, posters, books, toys, and more. Topps is also responsible for some of today's biggest candies, such as Ring Pops, Baby Bottle Pops, and Push Pops.
Topps has capitalized on trends over the years for non-sports related cards. They produced cards for notable figures such as The Beatles and President JFK, as well as media sensations like Star Wars, Pokémon, and Doctor Who. The company has worked with Disney Channel to make trading cards for the High School Musical movies and collaborated with comic book legend Jack Kirby to produce the Topps Comics line.
Selling Your Cards and Collectibles
Anything in your collection with the Topps logo, from sports cards to vintage comic books, is sure to be worth a pretty penny. The team at Collectibles Investment Group is knowledgeable about a wide range of items and can appraise your collection for free! If you're looking to sell your vintage sports cards or any other items, contact us today to set up your appraisal.