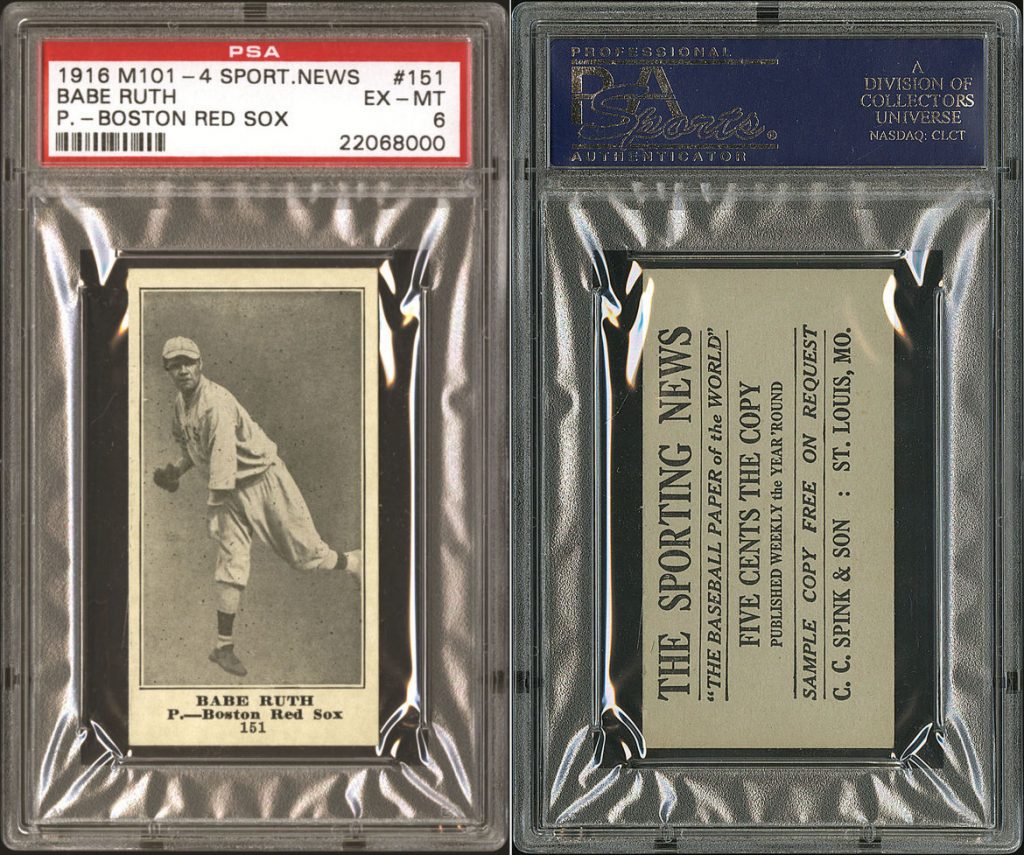 You simply cannot talk about baseball's greatest players without mentioning Babe Ruth. Now, one of the first legendary players of the sport has brought a Pennsylvania woman more than six figures. Recently, an incredibly rare Babe Ruth card went up for auction and brought in an incredible $342,000! If you're interested in today's most valuable baseball cards, this is a story you don't want to miss!
About the Auction
An unnamed woman from the Altoona, Pennsylvania, area found a rare 1916 M101-4 Altoona Tribune #151 Babe Ruth rookie baseball card while she was sorting through some items belonging to her late grandfather, who had owned an antique store nearby. She decided to sell the card through Robert Edward Auctions, and on Sunday, December 6, the card sold for a whopping $342,000.
The card in question was one piece of a 10-card set for Altoona Tribune baseball cards. An ad slogan for the Altoona Tribune appears on the back of the card. According to Brian Dwyer, who serves as the president of Robert Edward Auctions, claims that only about 70 of these types of cards (with the Altoona Tribune ads) exist today, and this recently auctioned card is only the second example featuring Babe Ruth that's been discovered to date. The card was graded "Good 2" by SGC.
Throughout the auction, the card received 16 bids and was finally sold to a private collector who has requested to remain anonymous. 20% of the final sale price will go to the auction house, while the remaining 80% will go to the seller.
About the Player
Babe Ruth was born on February 6, 1895, in Baltimore, Maryland. He started playing baseball during his time at St. Mary's Industrial School for Boys. By 1914, Ruth had signed to play for the minor-league Baltimore Orioles. He only stayed with the team for a matter of months before his contract was sold to the Boston Red Sox.
In late July 1914, Joseph Lannin, owner of the Red Sox, purchased the Providence Grays (a minor league team), and Ruth joined them the following month. He started training with the Red Sox in March 1915 and spent the next few years proving himself as one of the best hitters in the game.
Ruth's contract was sold again, this time to the New York Yankees, in 1919. He would spend 14 years with the team and would win four of his seven World Series with them. During his time with the Yankees, he was also the AL home run leader for 10 seasons and the AL BRI leader for 5 seasons. He spent his final season in the MLB with the Boston Braves. Ruth would go on to be one of the first five people to be inaugurated into the Baseball Hall of Fame in 1936 and is widely considered to be one of the best baseball players of all time, if not the very best.
Sell Your Baseball Cards Today
Even though Babe Ruth was known for his troubled childhood and poor behavior, his playing prowess cannot be denied. He set tons of MLB records, some of which still stand to this day. If you happen to have a Babe Ruth card in your sports card collection, you might be in for a hefty payday! But before you sell your collection, get it appraised to make sure you know what it's worth. Collectibles Investment Group is happy to work with you to determine the value of your sports cards, fantasy cards, comic books, coins and paper money, and more. Contact us today to learn more!