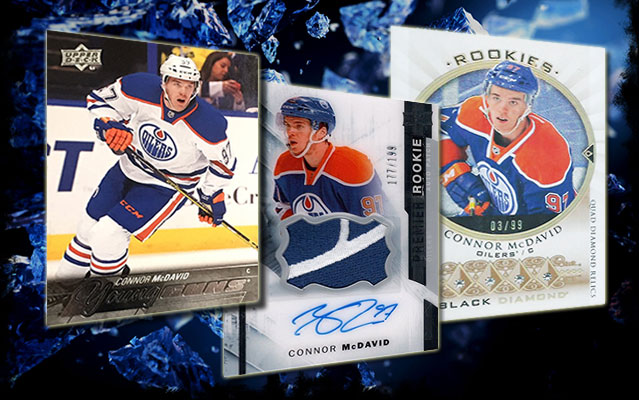 Connor McDavid might be a youngster, but he's already made a name for himself in the hockey world. At just 23 years old, he serves as center and captain for the Edmonton Oilers and is already considered one of the world's best hockey players. His numerous awards and trophies make him a household name in the hockey conversation, so it's no question that his rookie cards would be valuable. Here, we'll discuss this incredible player and a few of his most sought-after cards. If you've got one of his cards, you've found one of the most valuable sports cards out there today!
About Connor McDavid
Connor McDavid was born on January 13, 1997, in Richmond Hill, Ontario, Canada. He grew up in the Toronto area and started playing hockey at the age of 4. He played for several teams throughout the towns of Newmarket and Aurora, and in 2011, he left his minor league team, the York-Simcoe Express.
McDavid eventually moved on to play for the Toronto Marlboros of the Greater Toronto Hockey League and was named Player of the Year for the 2011-12 season. He was also granted Exceptional Player status by Hockey Canada, and the organization saw such promise in the young player that they allowed him to enter into the 2012 OHL Priority Selection at age 15, though 16 was the typical age for eligibility.
He was selected first overall by the Erie Otters, earned multiple honors and awards throughout the 2013-14 season, and eventually became captain. After the 2014-15 season, McDavid solidified himself as the most decorated player in OHL history.
NHL Career
McDavid entered the NHL with the Edmonton Oilers in the 2015 NHL Entry Draft, signing a three-year contract. He broke his clavicle and missed 37 games, but despite only completing 45 games in the season, he was third in voting for the Calder Memorial Trophy for the NHL's Rookie of the Year.
He was named the youngest captain in NHL history when he became captain of the Edmonton Oilers at just 19 years old on October 5, 2016. He has scored four hat tricks in his career to date and signed an eight-year, $100 million extension with the Oilers in July 2017. McDavid has earned countless awards and accolades throughout his NHL career, including the Art Ross Trophy twice, the Ted Lindsay Award twice, and the "Enterprise NHL Fastest Skater Competition" back to back.
Rookie Card
Upper Deck signed an exclusive deal with McDavid after witnessing his initial promise, and they've created multiple iterations of the player's rookie card. The cheapest of his cards is the 2015-16 Upper Deck Portfolio Connor McDavid RC #250. There are no special features on this card, but it's still a solid staple if you're wanting to bulk up your hockey card collection.
A more appealing option is the Trilogy RC /999, which is one of McDavid's rookie cards that comes serial numbered. 999 copies were printed, so it's not incredibly rare, but it still stands out from the pack. The Full Force #101 card is sharp with its 3D effect, and the Young Guns #201 card is arguably the most collected of McDavid's cards.
McDavid's The Cup #197 Rookie Card is easily his most valuable hockey card, as a June 2020 auction has shown. This particular card was #97 out of a 99-card run, which is notable as 97 is McDavid's jersey number with the Oilers. The card was sold by a California resident for a final bid of $135,811.20.
It's no question that Connor McDavid cards will soon become some of the most valuable sports cards on the market, as this hotshot is already being compared to the likes of Wayne Gretsky and Sidney Crosby. Get your hands on one now and save it! If you want to know the value of your current sports card collection, why not have it appraised? Collectibles Investment Group can tell you more about your valuable sports cards as well as other items like fantasy cards, coins and paper money, and more. Contact us today to schedule your free appraisal!