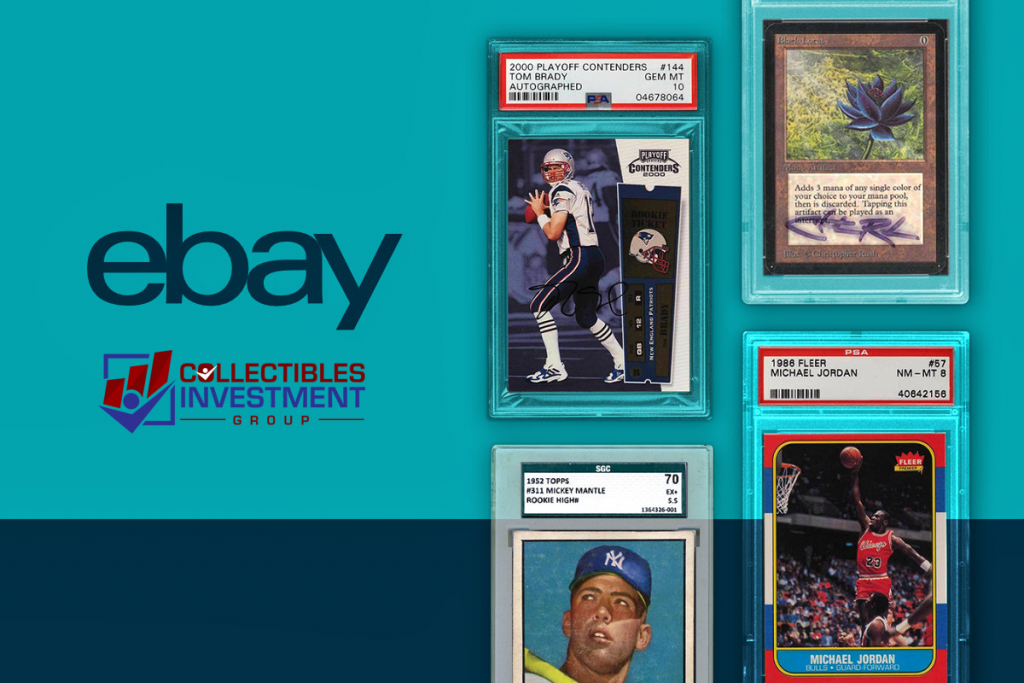 When the COVID-19 pandemic began in 2020, many people found themselves digging out old collectibles and reconnecting with their childhood hobbies. Since then, we've seen tons of collectibles, from sports cards to comic books to Pokémon cards and more, hit the auction block for simply jaw-dropping figures. If personal anecdotes weren't enough to convince you that more and more people are connecting with collectibles lately, eBay has just released some stunning figures that back up the stories. If you're curious about the most valuable collectibles, now is the time to start doing your research!
eBay's Findings
eBay just released their 2021 "State of Trading Cards" report, and the company has proven that collectibles are making a comeback. They've reported that domestic sales for trading cards (that includes sports cards, collectible card games, and non-sport trading cards) went up a whopping 142% from 2019 to 2020. eBay says they sold more than 4 million trading cards in 2020 over what their total was for 2019. Sports business analyst Darren Rovell gave this quote that truly sums up how incredible this feat is: "Never have I seen trading cards show such a steep increase in popularity and value."
When just talking about valuable sports cards in particular, soccer cards saw the most growth at a breathtaking 1,586% increase. Basketball cards came in second, though their growth figure was nowhere close at 373%. The biggest sale for a sports card on eBay in 2020 was a 2000 Playoff Contenders Tom Brady Rookie RC Auto #144 PSA 10 Gem Mint, which sold for $555,988. This incredible sale took place on January 25, just after Brady and his Tampa Bay Buccaneers clinched their spot in the Super Bowl. Now that the Bucs have won the Super Bowl, we might even see a Brady card go for even more in the near future!
Other notable sports card sales included a 1996 Kobe Bryant card, a 1952 Mickey Mantle card, a 2018 Luka Doncic card, and a 1986 Michael Jordan card.
If we're speaking about valuable collectible card games, the biggest sale that eBay has seen recently came from Magic: The Gathering. The famous Black Lotus card at a stunning Gem Mint PSA 10 condition sold for $511,100. Other versions of the Black Lotus sold for $250,000 and $165,000 as well. Of course, Pokémon was also a staple; two different versions of the 1999 Base Set 1st Shadowless Holographic Charizard sold for $350,100 and $295,300.
It's likely no surprise, but the most popular trading card category that eBay had in 2020 was Pokémon cards. Sales of Pokémon cards increased by a jaw-dropping 574% from 2019 to 2020!
Sell Your Collectibles Now
Within eBay's report, they also gave some predictions for what will determine the most valuable collectibles in the near future. eBay believes that nontraditional cards will see a spotlight, along with vintage basketball cards and sports memorabilia including game tickets (Kobe Bryant, anyone?). Since Pokémon is about to turn 25 years old, there's likely to be an increased interest here, too.
One of the most notable observations is that eBay believes more and more collectors will be willing to purchase lower grades just to have a piece in their collection. So, if you've got collectibles that aren't in the best condition, you can still sell! You'll want to start, though, with an appraisal to ensure you get the best value for your pieces. Contact Collectibles Investment Group today to see how we can help value your sports cards, comic books, valuable coins, and other items!