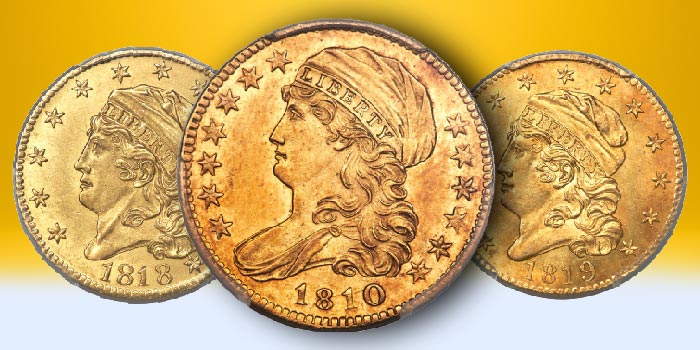 From September 18-20, 2020, Heritage US Coins Signature Auction sold some incredible vintage coins graded by Numismatic Guaranty Corporation (NGC). Multiple coins offered up at the auction brought in well over six figures, with the 1907 High Relief Double Eagle bringing in $660,000. The rare pieces in this collection are sure to be of interest to everyone looking to sell gold coins!
1907 High Relief Wire Rim $20
This coin was one of the biggest appeals of the auction, namely because of the controversy. While it's one of the most popular coins that the U.S. Mint has ever struck, this coin has a mysterious past; no one quite knows the origins of the piece, and there are no mintage figures in existence. In any case, this particular coin is just one of four in the NGC Census that has earned a grade of PF 69. It is pedigreed to the Tacasyl Collection and is the first appearance of the coin at auction since it sold for over $10 million in 2013.
1795 13 Leaves Eagle
One of the first $10 gold coins to be struck by the U.S. Mint, the 1795 13 Leaves Eagle were some of the largest gold coins produced by the Mint from 1795 to 1804. The variety sold at this auction was a BD-1 coin, considered the first type that was coined for the year. This coin was graded NGC MS 64, among the highest that's ever been recorded. It realized $288,000 at auction.
1795 Draped Bust Silver Dollar
Those interested in early American history tend to love the 1795 Draped Bust Silver Dollar. Many are already familiar with the Flowing Hair Dollars, which were the earliest dollars to be struck and dated 1795. The Draped Bust was the replacement for this iconic coin. It is believed that the Draped Bust coins were first struck in October 1795, though experts are unsure. The coin presented in this auction was graded NGC MS 64 and realized $186,000.
1915-S Panama-Pacific Octagonal $50
This coin was first introduced to patrons of the 1915 San Francisco World's Fair. It was designed by Robert Aitken and was inspired by the early 1850s fifties coin produced by the United Assay Office and Augustus Humbert. They came with a $100 price tag, which very few could afford at the time, and only 645 Octagonal coins were sold of the 1,500 that were offered. The coin presented at auction was graded NGC MS 64 and sold for $126,000.
1829 $2.50 BD-1
This 1829 quarter eagle is an incredibly rare piece that Heritage Auctions was thrilled to display. It's believed that, at one time, there were two varieties of this coin, but as of today, just the BD-1 has been accounted for. There were only around 3,400 pieces minted, and it's been estimated that only 70-90 pieces still exist, making this a magnificent find. A MS67 PCGS coin brought in $316,000 at auction in 2006, but in this case, the coin was graded NGC MS 65 and realized $84,000.
These are just a few of the valuable coins that appeared in this auction, but the event has proven one thing: there is a large demand for high-quality vintage coins in the United States. If you have a bunch of old coins or paper money, you're probably wondering, "Where to sell my collection?" Collectibles Investment Group is happy to help you get started with a free appraisal. We can assess your coins, paper money, comic books, sports cards, and any other collectibles you might have. Contact us today to schedule your free appraisal!