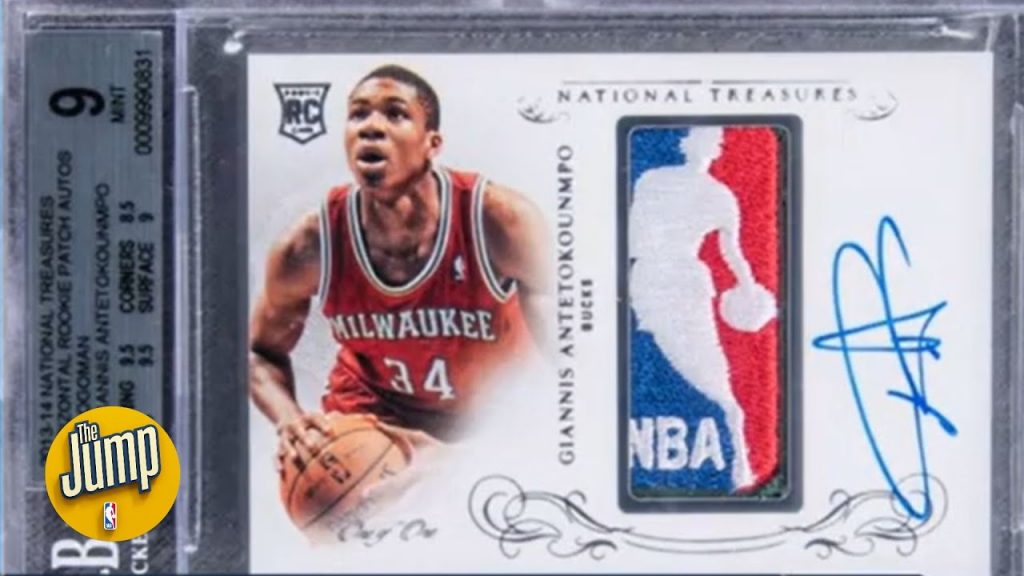 Just two months ago, LeBron James broke the record for the highest-selling modern-day sports card, as well as the most valuable basketball card ever sold. The card in question was James's 2003-04 Upper Deck rookie Patch Parallel card, which sold for an unprecedented $1.8 million. However, this record is one that James wasn't able to hold onto for long.
Giannis Antetokounmpo saw his rookie card sell for an incredible $1.812 million at auction on Sunday, September 20. This card from the 2013-14 National Treasures set is a sight to be seen and is an unbelievable sale in the sports card market. If you're wondering how to sell sports cards, take a lesson from this case!
About the Card
Giannis Antetokounmpo's rookie card was featured in the 2013-14 Panini National Treasures set. The card in question featured an NBA logo patch and a signature from the young player. It was graded a Beckett Mint 9 and received a 10 for its signature grade.
The design of the card is truly unique, displaying a full-color action image of Antetokounmpo on the obverse. The "Logoman" patch is featured prominently on this card comes from a jersey that the player actually wore in a game with the Milwaukee Bucks. Underneath Antetokounmpo's picture is the phrase "One of One."
Goldin Auctions held the sale for this card, the same auction house that offered up LeBron James's card in July 2020. This card brought in 31 bids and was eventually purchased by the same party that bought James's card.
About the Player
Giannis Antetokounmpo was born on December 6, 1994. He was born in Greece to Nigerian immigrants but didn't actually receive Greek citizenship until 2013. Antetokounmpo's basketball career was promising from the very beginning; he began playing the sport casually in 2007 and was playing competitively by 2009.
He began his basketball career with the youth squad of Filathlitikos, and by 2011, he had worked his way up to the senior men's team. After two years here, Antetokounmpo became eligible to join the 2013 NBA Draft and was chosen 15th overall by the Milwaukee Bucks.
His NBA debut came on October 13, 2013, making him one of the youngest professional basketball players ever at almost 19 years old. He set several records throughout this first season and was eventually named to the 2013-14 NBA All-Rookie second team. During his second season with the Bucks, the accolades just kept coming, with honors like his first reception of Eastern Conference Player of the Week.
Antetokounmpo really dominated the triple-double during the 2015-16 season with the Bucks. He got his first triple-double on February 22, 2016, making him the youngest Bucks player to do so. He would end the season by setting a new team record for the most triple doubles in a season, a record he would equal in the following season.
He started to truly see his start potential in the 2016-17 season. Just a few of the feats he accomplished include being the youngest player in Bucks history to start in an All-Star Game, the first Greek NBA All-Star, his first reception of Eastern Conference Player of the Month, and the first player in NBA history to end in the top 20 in the league in all five major categories (points, rebounds, blocks, steals, and assists) in a regular season.
From there, his success has only grown. He currently stands as just the third player ever to win NBA Defensive Player of the Year and MVP in the same season, joining the ranks of Michael Jordan and Hakeem Olajuwon. At just 25 years old, Antetokounmpo already has an incredible career and is on track to be one of the most memorable players to ever grace the NBA.
There's no question why Antetokounmpo's rookie card is already so valuable, but if you have one in your collection, you may want to hang onto it for a while. Who knows how many more records this guy can set? If you're wondering where to sell basketball cards for cash, Collectibles Investment Group can help. Our experts can appraise any sports card, comic book, coin, or paper bill you have. Contact us today to schedule your free, no-obligation appraisal!