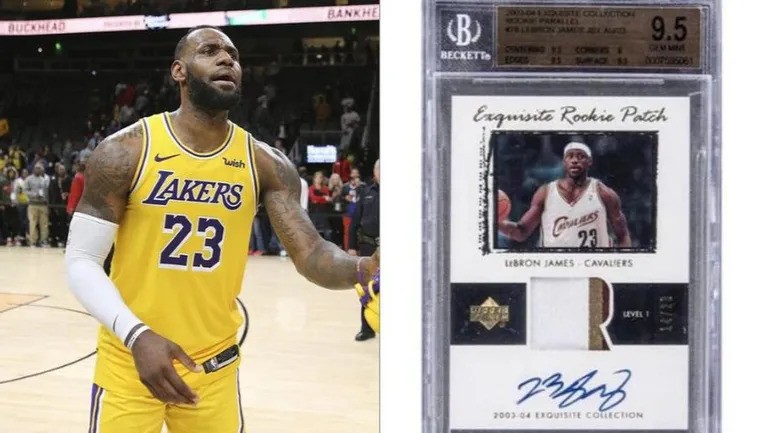 King James has put another jewel in his crown; he's not just a star on the court, he's also a star when it comes to the value of sports cards.
Not only is this most recent sale unprecedented in terms of valuable basketball cards, it also marks a rarity: most owners of rare LeBron James cards are not looking to sell, according to PWCC Marketplace's Jesse Craig, director of business development.
"There are a select few that want to capitalize on the rise of the market," Craig says. "But it has to be kind of the perfect storm for someone to release a card of this magnitude."
About the Card
In April 2021, a LeBron James 2003-04 Upper Deck Exquisite Collection rookie patch autograph with only 23 copies in existence sold for a record $5.2 million. The card was serial numbered #07 of 23. The James card was graded a 9 by Beckett Grading Services, making it the third-highest example in existence, sharing the honor with other valuable sports cards of Mike Trout, Kevin Durant, and fellow teammate Anthony Davis.
The sale broke the previous "most expensive basketball card" record set the month before, a one-of-one Luka Doncic Logoman RPA (2018-19 Pannini National Treasures) that went for $4.6 million…and indeed, matches the all-time sports card record set in January 2021, when a 1952 Topps Mickey Mantle card sold for the same price.
The sale was brokered by PWCC in a private transaction rather than at auction, where the last LeBron James 2003-04 Upper Deck rookie card (numbered #14 of 23) sold for just over $1.8 million (Goldin Auctions, July 2020). That valuable basketball card received a 9.5 grading.
About the Player
LeBron James isn't called King James for nothing: he is one of the most iconic players not just in basketball but in all of sports. A high school basketball star from St. Vincent – St. Mary High School in Akron, Ohio, James forwent college and headed right to the NBA, becoming the No. 1 draft pick of the Cleveland Cavaliers in 2003, where he became the youngest player to ever win NBA Rookie of the Year.
Despite putting up great numbers, including the NBA scoring title in 2007-08, and leading the Cavs to two postseason appearances, a championship title eluded James until, as a free agent, he went to the Miami Heat in 2010. During his four-year stint in Miami, the team won the championship back-to-back in 2012 and 2013, with James named Finals MVP in both contests. In 2016, after returning to Cleveland in 2014, James led the Cavs to their first-ever championship and was again Finals MVP.
Currently, James is playing for the Los Angeles Lakers in his second season with the franchise.
Evaluate Your Sports Cards Collection
Might you have a valuable basketball card or any valuable sports card in your collection? While you may not own a card worth millions of dollars, you could still have a collection that's incredibly valuable. Want to find out? Contact Collectibles Investment Group and let us appraise your card collection. Fast, accurate appraisals! Contact us and let us take a look.