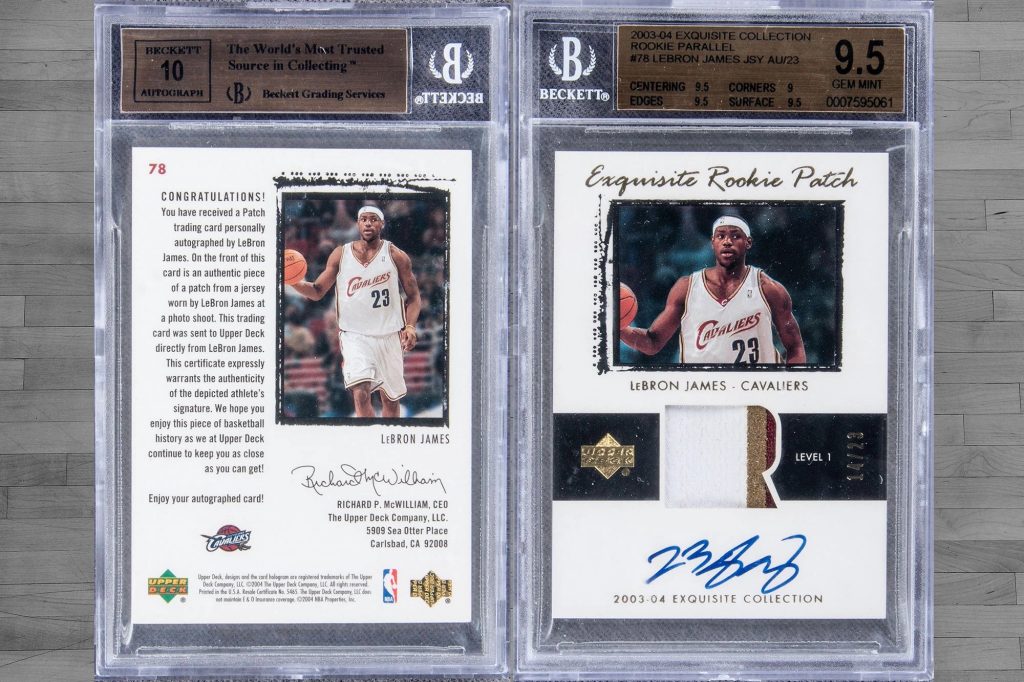 When you're thinking about valuable basketball cards, you simply can't forget about LeBron James. There's a reason the man is a household name, and he's already gone down in history as one of the best. Recently, a massive sale of James's rookie card just solidifies the man's status as a basketball great.
A Record-Setting Auction
On July 19, LeBron James's 2003-04 Upper Deck rookie Patch Parallel card went to auction with Goldin Auctions. After 34 bids, it was sold to Lob.com CEO Leore Avidar for a whopping $1.845 million.
This incredible figure marks the record for modern-day cards, which is anything produced in or after 1980, and the record for the biggest sale of any basketball card on record. The James card sale breaks a record previously set in May 2020, when a Mike Trout signed rookie card sold for $922,500.
Obviously LeBron James is worthy of such an accolade, but why exactly was this sale so unbelievable? Much of the answer has to do with age. The $1.8 million price tag wouldn't be so outrageous if it was attached to an older card, but for a card that's just 17 years old featuring someone who is still playing in the NBA, this figure is simply unprecedented.
About the Card
One of the things that makes this card particularly valuable is its rarity. Typically, cards included in the Upper Deck rookie Patch Autograph set are produced in quantities of 99. These cards feature an autograph of the player in question, as well as a patch of jersey from their rookie season, hence the set name "Patch Autograph."
However, this card comes from the Patch Autograph Parallel set. What's different about it? In this set, cards weren't produced in quantities of 99; instead, they were produced according to the jersey number of that particular player. So, since LeBron James is No. 23, just 23 cards were produced.
What's more, the card that sold at auction was graded at a 9.5 mint gem by Beckett, one of just two of these cards to receive this stunning grade. The other 9.5 card is currently in a private collection.
Other LeBron James Cards
This isn't the only valuable basketball card that bears the face of LeBron James. He's had cards produced by Upper Deck, Fleer, and Topps, but Upper Deck is the only company that can produce autographed cards for the player.
James has several versions of his rookie card that stand out. For instance, the UD Glass card is unique because it is made from plexiglass as opposed to the traditional acetate. Plexiglass is much thicker and more durable than your traditional card, and only 250 copies were ever made, so it's extra rare.
Another interesting RC for James is the UD Honor Roll card. It was numbered to just. 499 copies and has a swatch of his jersey embedded in it. Granted, it's a jersey he wore for a photo shoot and not in a game, but if you're looking for a piece of history, this is one of your best options if you can find it.
However, one of James's rarest and most valuable rookie cards is the Exquisite Collection RC. With an original price tag of $500 for a pack, these cards were largely ignored by collectors, but they opened the sports card market to a whole new world. This card is signed, comes with a multi-color swatch, and only had 99 copies printed. Much of the value, though, comes from the fact that this card basically introduced the idea of a high-end sports card.
LeBron James's rookie cards will only continue to increase in value as his career continues to skyrocket. If you're looking to sell basketball cards and happen to have a James RC in your collection, you could be in for a pleasant surprise! Contact Collectibles Investment Group today to schedule a free appraisal for your collection of sports cards, comics, coins, and more.