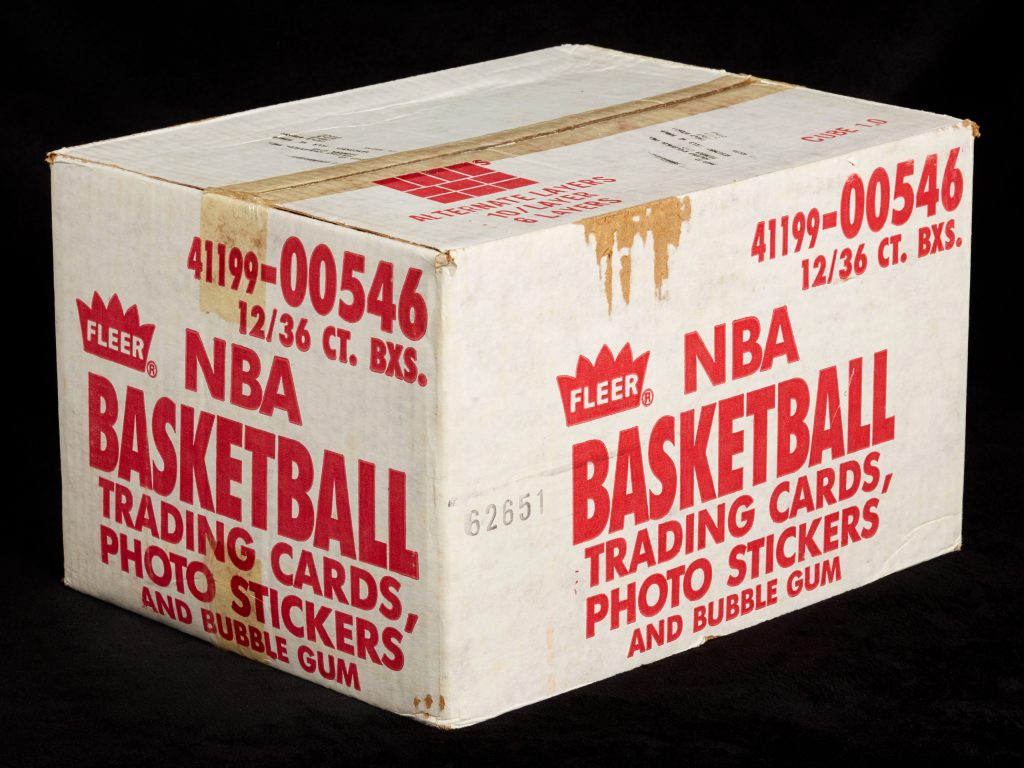 You'd expect some of the most valuable basketball cards of all time to come from Upper Deck or Topps. Fleer probably isn't the first name that comes to mind. But despite their limited success, they have been the subject of some big sports card news lately. On Thursday, August 6, an unopened case of Fleer basketball cards from 1986-87 was auctioned at a whopping $1.79 million. What makes this figure so unbelievable is that these cards were hard-pressed to sell for even 10 cents per pack upon initial release.
About the Auction
Collect Auctions held the sale, an auction house based out of Wisconsin. The case was originally put up for sale by Larry Fritsch, who has been in the card game for more than 50 years and actually has several unopened cases of cards. The case was purchased by Blowout Cards owner Tom Fish on behalf of an unidentified buyer.
The case contains 12 boxes of 36 packs of cards, meaning the buyer purchased each box for over $149,000. Perhaps the star of the show is the Michael Jordan rookie card, which has sold as high as $97,000 for a single copy. If this case is similar to previous boxes, it should contain 36 cards and 36 stickers, but the condition is unknown as the case remains unopened.
A sealed case similar to this one has been sold in the past, around the late 1990s.
About the Cards
Even though these are now some of the most valuable basketball cards in recent years, the cards from this set had a really rough beginning. When they were first produced, basketball cards were not the attractions they are today. Many collectors were solely dedicated to baseball cards at the time and had absolutely no interest in collecting basketball cards.
The 1986-87 Fleer set was mostly ignored upon initial release, and sets were marked at 50 cents each, as was the norm. However, dealers found that they simply could not get these cards to sell, with some sellers going so far as to mark them down to just 10 cents each. Even these drastic measures often didn't help.
Michael Jordan Rookie Card
The big selling point here is the Michael Jordan rookie card. It's likely that this card would have been produced by Topps if circumstances were different, but the company actually stopped making rookie cards from 1981 until the 1990s, so Fleer had control of the RC market.
The card would be valuable in and of itself just thanks to the star. Michael Jordan is a household name and has already solidified himself as one of the greatest athletes of all time. However, with the recent release of the documentary series The Last Dance outlining his rise to fame and his final season with the Chicago Bulls, the card is just that much more valuable right now.
In addition to the Jordan RC, the box is believed to also contain rookie cards for Hall of Fame players like Patrick Ewing, Charles Barkley, Karl Malone, and others.
It's been an exciting summer for basketball card collectors, and you might be looking into selling some cards yourself. If you're considering selling basketball cards, contact Collectibles Investment Group. It's always important to have any collection properly appraised to ensure you're getting the best value for your treasures. We can provide a free appraisal for your sports cards, coins and paper money, comic books, and more, all from the comfort of your own home. Then, we'll pay top dollar with an easy and secure transaction. Contact Collectibles Investment Group to get started today!