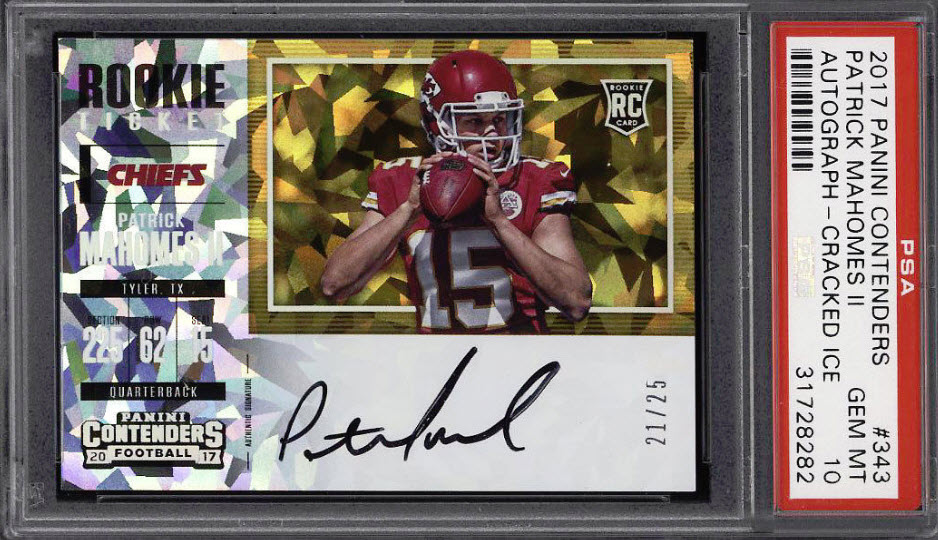 If you're interested in valuable sports cards, you can turn to eBay for your next fix. That is, if you happen to have a spare $7.5 million laying around. That's how much an incredible collection of Patrick Mahomes rookie cards is going for right now on eBay. This collection is sure to be intriguing to football fans young and old.
About the Collection
This once-in-a-lifetime collection includes 32 Mahomes cards that each have a 1/1 serial number, marking them as the only ones to exist. Some of the cards in the group have been graded by GMA, PSA, and Beckett. Every card in this collection is from 2017, Patrick Mahomes's rookie year with the Kansas City Chiefs.
The collection is being sold by Robert DeArmitt, Jr., and his wife Heidi. They have been fans of the Chiefs for years and immediately believed that Mahomes would become a major standout in football. When he was first signed, DeArmitt purchased a Mahomes card for $275, a card that is now worth around $400,000. The full collection is currently listed for $7.5 million.
About the Player
Patrick Mahomes currently plays as quarterback for the Kansas City Chiefs. He was born in Tyler, Texas, on September 17, 1995. Growing up, he was passionate about several sports, including football, basketball, and baseball. Mahomes's father is Pat Mahomes, who was an MLB pitcher for the Minnesota Twins at the time.
Patrick committed to play football with Texas Tech University and also served as a relief pitcher for the Texas Tech baseball team. He played football with Texas Tech for three years and broke multiple records for his school, the Big 12, and the NCAA. He forwent his senior year of college to join the NFL Draft in 2017.
Mahomes was selected 10th overall by the Kansas City Chiefs. He spent his rookie season as a backup quarterback under Alex Smith, and in 2018, he was promoted to starting quarterback. For the 2018 season, Mahomes set multiple records and won several awards, including NFL Most Valuable Player, NFL Offensive Player of the Year, NFL passing touchdowns leader, and recipient of the Bert Bell Award.
In the 2019 season, Mahomes's success simply continued, leading him and the Chiefs to a Superbowl win. Mahomes became the third-youngest player and the youngest quarterback to ever be named Super Bowl MVP. His superior performance led to a 10-year contract extension for $477 million with potential bonuses that brought the total at $503 million. This contract broke records as the biggest contract ever awarded in American professional sports.
At just 25 years old, Patrick Mahomes has already proven himself to be a football legend, and there's no telling how far he'll go. If you happen to have a Patrick Mahomes card in your collection, hang on to it for a while! It could turn out to be one of the most valuable sports cards out there in just a few years' time. If you're looking to sell sports cards now or in the future, make sure to get your cards properly appraised. Collectibles Investment Group can appraise all of your sports and non-sports cards, as well as comic books, paper money, gold and silver coins, and much more. Contact us today to schedule your free appraisal!