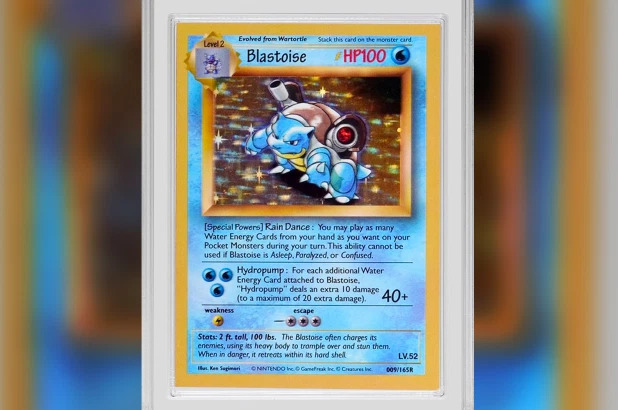 It's no secret that Pokémon cards have been more popular than ever lately. Not only has the pandemic brought out the childhood collector in all of us, but Pokémon is celebrating its 25th anniversary in 2021, bringing even more attention to the already popular game. Now, there's been a new record set for the most valuable Pokémon card with an incredibly rare Blastoise.
About the Auction
Heritage Auctions recently sold a rare Blastoise card from 1998 for a stunning $360,000, making it the most expensive Pokémon card that's ever been sold. To be precise, the card is the Pokémon Blastoise #009/165R Commissioned Presentation Galaxy Star Hologram (Wizards of the Coast, 1998) CGC NM/Mint+ 8.5. (Quite the mouthful!)
This card actually has quite the interesting story, and it's one of the rarest Pokémon cards out there with just two ever produced! The presentation cards were made by Wizards of the Coast simply as a test print so that the media could demonstrate what a Pokémon card would look like in English, since the cards had only ever been printed in Japanese up to this point.
The two presentation cards were actually printed with blank backs. Other similar cards printed within the test pack came with Magic: The Gathering backs instead. While this card has now been sold to a mystery buyer, the whereabouts of the second presentation card are unknown. One thing's for sure: whoever does have it in their collection could be in for a pretty payday if they do bring it to the auction block soon!
Other Notable Sales
While this sale is simply earthshattering for Pokémon fans right now, it's not a lone incident. There have been several notable sales within the Pokémon world over the past few months. A shiny Charizard was sold in October 2020 to rapper Logic for $220,000, which was the most expensive Pokémon card sold at auction at that time. Heritage Auctions also recently sold a full Booster Box from the original 1999 launch for $408,000, and Goldin Auctions sold a complete 1st Edition Pokémon Card set from 1999 (graded Gem Mint 10!) for $666,000.
However, one of the biggest pieces of Pokémon news lately doesn't have to do with a sale, but rather, it harkens back to what the game is truly meant for: trading. A trader from Italy known as "Marco" gave up nine Charizard cards and three custom drawings from Mitsuhiro Arita in order to obtain a famous Pikachu Illustrator card for a trade that comes to a total value of $900,000.
With the 25th anniversary of Pokémon coming upon us, it's likely that even more sales will pop up and more memorabilia will be created. Recently, collectors have been heading to McDonald's to get the Pokémon toys being featured in Happy Meals, and more promotional materials are expected to be coming from General Mills, Mattel, Funko, and other companies.
What are Your Cards Worth?
Want to get in on the action for yourself and sell your Pokémon cards? Start with an appraisal to see how much you could get for your collection! Collectibles Investment Group is happy to appraise your Pokémon cards and other collectibles such as sports cards, coins, comics, and more. Contact us today to get started!